IN THE NEWS
"New track by The Gothsicles unveiled to celebrate couple's engagement"
– ReGen Magazine, April 16, 2016
"The Gothsicles achieve Kickstarter goal within three hours"
– ReGen Magazine, August 28, 2014
---
PODCAST APPEARANCES
– Space Radio, 2/1/2017
– The DJ Moose Show, January 20, 2017
– The DJ Moose Show, January 06, 2017
– The DJ Moose Show, December 31, 2016
– The DJ Moose Show, January 30, 2015
– Radio Free Nowhere, April 11, 2014
– The Requiem Podcast, July 31, 2013
---
INTERVIEWS
VampireFreaks.com, February 7, 2015
The cover to The Nyarlat Hot EP is very Castlevania for its cover, is this intentional?
The Gothsicles – "Musik pictures i drawn", who did that cover, is massively a thing. Check out that party
[here]
Being very video game related to what you do musically, does this open doors to things like festivals where other bands would be out of place?
The Gothsicles – It's allowed us to back-door into the amazing and demented world of sci-fi, gamer, or generally "fan-run" cons. There's a slight dissonance in opening for Covenant and then turning around to play a hotel ballroom full of Klingons, but it's cool 'cause Klingons are awesome.
What is your earliest video gaming memory?
The Gothsicles – I remember going over to my friend Dan Stierman's house and seeing an Atari in action for the first time and being amazed that such a device could just casually exist in someone's home rather than out in the world where it would be studied by scientists or something.
Did you ever save dat mermaid?
The Gothsicles – Oh my god. I mean…I'm pretty sure I did? Holy shit, now I'm questioning if I ever actually beat Goonies II. Fuck, there's the rest of my day sorted out
Do you feel that the games scene is going backwards rather than forwards with the popularity of games such as Terraria and Mine Craft having that retro feel?
The Gothsicles – No idea, I'll be over here playing Maze Craze.
For Squid Icarus you collaborated with a few different bands like with Cyferdyne for I Sniffed The Glove, how was it you arranged these collaborations?
The Gothsicles – Cyferdyne came about 'cause we played with them in Sheffield in England and got along well and then Steven kept posting "I sniffed the glove" (referring my Power Glove) on my Facebook, so I'm like, "Aight, this has to happen now".
Generally, if someone's on my wavelength, or I on theirs, a collaboration comes together on its own, e.g., collabs with Angelspit, Prometheus Burning, Defence Mechanism, and Cryogenic Echelon to name a few. That's how the whole Causticles side-project started, too.
Incidentally, there's a mega-hot, mega-new collab track with Interface coming out on February 9th, 2015 on a compilation benefiting the Sick Kids Foundation and St. Jude Children's Research Hospital. Check that out [here]
Why did the goat get its own section on your website and can you tell us a little bit more about it please? What's its name and what band is it in?
The Gothsicles – I don't know, I just liked that goat. It's name is now Eric Goatesman and it fronts a band called Everything Goats Cold.
Crowd funding is becoming a very common thing and something that you yourself used for Squid Icarus, what were the advantages and disadvantages for you using crowd funding?
The Gothsicles – Our Kickstarter campaign was kind of an unforeseen, unnerving, electric success and was fully funded in three hours. Obviously, the advantage there is that you get a lot of money from wonderful and helpful people, but that money comes with some hidden costs. For example, I thought I would be somehow promoting worldwide sales if I undervalued the international shipping fees, but that ended up stinging more than it stimulated.
What is the most goth thing you have ever done?
The Gothsicles – Work in IT
What is the stupidest goth thing you have ever seen?
The Gothsicles – One time I touched this ancient magical skull and accidentally switched bodies with Judge Reinhold.
Is Star Trek Beer available to buy and if so where can I buy it?
The Gothsicles – If it's the 24th century, then everything's free.
You had a good friend helping you for Squid Icarus, for those who don't know can you tell us who that was and what input he had?
The Gothsicles – I'm pretty sure I know to whom you're referring, but I want to first say that a ton of people were vital to the album's construction, namely Kelly Howlett, Tom Shear, Josev, Bee, Krischan W., Sami, Emily Gualdoni, Kristina Feyerherm, Nathan Winter, Carley G., Dan Clark, Kolja, Niall-era Cyferdyne, Daniel Meier and other people I forgot because I'm a fucking idiot.
But yes, shaping the album's art direction like Khnum at the potter's wheel of creation was Zoog von Rock of Angelspit, who is basically a superhero. He created that whole outfit and and cover concept and orchestrated the photoshoot, in addition to lending some synths and vocals to the track, "This Club is Closed".
He managed the entire Squid Icarus Kickstarter campaign, too. We had a packaging party at his apartment and watched the first five Star Trek movies.
Do you have a mancrush?
The Gothsicles – Yes, on Marco and Marko from XP8, mostly because I don't want that band to quit.
What is the best piece of music you have heard that uses 8-bit samples?
The Gothsicles – One time my brother, a fellow lo-fi synth guy, and I had a conversation about how depressingly good Totally Radd!!'s cover of Iron Maiden's "Hallowed By Thy Name" is in a "Will we ever be able to even come close to this?" sort of way.
I'm sure a lot of people have been wondering but may never wanted to ask so I am going to ask, is Kurt Russell your dad?
The Gothsicles – We are all Kurt Russell.
Thank you so much for giving Vampire Freaks this interview, is there anything you would like to add?
The Gothsicles – GOTHSICLES FOR TRITON 3!
posted by Phlis
VampireFreaks.com (video), September 19, 2014
Zzight.com, July 31, 2014
interviewed by Leon Zzight
Hey how are you?
Gassy
Could you tell us a wee bit about your band?
Fairly standard industrial band with all the power fantasy replaced by esoteric bullshit.
I saw a YouTube description about me once that was like "It can be surprising how good the music is". That pretty much sums up the project as well as anything.
We can hear everything from the Beastie Boys to an Atari 2600 in your music. Could you tell us a bit about your influences.
In the beginning, it was a lot of Devo, Atom and His Package and And One.
In about the middle, it was mostly Hocico, Rappy McRapperson and being drunk all the time.
Currently, it's Angelspit, Scooter and 666.
Also Beastie Boys and Atari 2600.
What albums would you say have the most meaning to you?
Sigue Sigue Sputnik – Flaunt It
My Life With The Thrill Kill Kult – Confessions of a Knife
Hocico – Signos De Aberracion
Kraftwerk – Die Mensch Maschine
Would you say any films have artistically influenced you?
6. Leprechaun 2
5. Leprechaun
4. Leprechaun 4
3. Leprechaun 6
2. Leprechaun 5
1. Leprechaun 3
So what has The Gothsicles got for all of us this year?
Urg. I've had a new album completed since earlier this year that's the best thing I've ever done, but there's still some administrative work to finalize. Hopefully, that will be out by the year's end.
We also have a few live shows here in Chicago (homebase) in mid August 2014, and then a Canadian mini-tour with for all the emptiness and Hätz in the very last days of August, and then Albany, NY on September 5th and Ann Arbor, MI on September 22nd. Look those up!
You played in Sheffield in 2012 How did the fans treat you in the UK?
They were all horrible people and should be killed.
When are you coming back.
As soon as possible, plausibly in the next year. Ostensibly, on a brief tour after that album from question 6 comes out, but soon, in any case. I really, really miss it.
Could you tell us what you are up to with your side projects this year.
Christ on a cracker, side-projects for daaaaaays. We're about 8 tracks in on HARDCORE PONG, which is Angelspit & The Gothsicles. That's gonna be awesome.
KHIONIK is an unabashedly housey thing I'm working on with Syrinx that should be cool. He's probably angry with me 'cause I'm way behind on that one, but also probably not that angry at all because he's a really nice guy.
THE CAUSTICLES (Caustic & The Gothsicles) has an album and a remix EP out and just released a cover of Suicide Commando's "Raise Your God".
Check all that shit out at thecausticles.bandcamp.com 'cause it's free.
DINOSAUR TANK started out as an EBM thing and has since become almost exclusively a chip tune project. New tracks come out when I'm having a slow day at work.
I'm also doing the soundtrack for a new fancy video game I can't talk about yet. They initially wanted a bunch of loops and blorps and shit, but now they want 5 full tracks.
Where do you see the future of industrial music going?
And finally do you have any exclusive news for Zzight
I'm fairly far into the album after the album that hasn't been released yet. So far, the best track on it is about Bloodsport.
Thanks again for this.
Thank you!
BTW, do you ship your merch to the UK?
HEEEELLLLS YES I do!
Robex Lundgren Musik Blogg, June 3rd, 2014
What made you call the band "The Gothsicles"?
I thought it was hilarious in college. I don't make a lot of good choices.
How was the band formed? Well, it's electronic music, so all that really takes is one dude and a laptop.
Can you tell about your band? No.
Where are all band members from?/Who does what in the band? My name's Brian and I live in Chicago and am pretty much the "everything" guy by way of vocals and programming, but I will bring friends to help me out with live performances, such as Matt from The Dead Room and Micah from Cruciform Injection. They're pretty wonderful people.
What was the ambitions of the band when you started? I really just wanted to open for bands that I liked, thereby getting into shows for free. That actually hasn't changed too much.
Could you explain your music to someone that haven't heard you? What happens when music gets too easy to make.
Where was your first gig? May 2nd, 2003 and Union South at the University of Wisconsin. We played three songs and then rushed over to Milwaukee to see Stromkern and SMP.
Where was the latest gig? Aftermath Festival in Toronto, Canada. That was awesome.
Who writes your songs?/Who writes the music who writes lyrics? I go through Angelspit's trash and do whatever they don't want.
Who has the best sense of humor in the band? The computer.
What's good/bad with the band?/What genre do you feel you are?
Good: Sometimes writing music is awesome.
Bad: Sometimes writing music is bullshit.
Genre: Moldy old duck shit
Why did you pick that particular style?/What are your songs about? Money and bitches and fuckin' hell if that didn't work like a charm. Our songs are about life on the streets.
Do you write your own material or mainly covers? I go through Rotersand's trash and do whatever they don't want.
Have you made any albums?/If yes what are they? Yes, we have made albums. Albums are typically collections of songs.
Do you have any clips on YouTube? No, nobody uses the Internet. Shit's for nerds.
How old are you?/What got you started in music? I actually have yet to be born and am addressing you now from the womb. I got interested in music at 16 weeks after conception when my hearing began to develop.
At what age did you start playing? 16 and a half weeks, although my motor skills are still being formed.
How old were you guys when you first stood on stage? Using my in-utero time viewer to peer into the future, it looks our first gig will be at the McKinley Elementary kindergarten classroom. Our drummer gets super drunk and starts pitching lincoln logs and carpet squares into the audience.
What year was the band started? 2002, officially. I won a remix contest for Freezepop.
Best/worst gig you've played?
Best: There are been some phenomenal shows in the past, but some that come to mind are perhaps Resistanz Festival in Sheffield, England or Kinetik 5.5 in Montreal, Canada. This most recent Convergence festival in Chicago was also a gem.
Worst: Oh god, also a tough call.
What places will you be playing in in the imidate future? Just came from a great Toronto festival, got a gig in Chicago on August 13th and that's all I can announce at this juncture.
Where have you played from then till now? The USA from top to bottom and east to west, Canada coast to coast, England and Scotland.
Witch band is the best you´ve seen? Witch bands? Aaimon is probably my favorite witch band. Also, Wychdoktor.
What has been the best/most promising gig so far? Albany, New York is totally secret treasure and I would love to play Glasgow, Scotland again.
Have you had any bigger tours from start to now? We did a tour with Die Sektor, Deviant UK and for all the emptiness and it was fairly mind-bending.
How big crowds do you usually play for? Like a grillion-million.
What are the plans for the rest of the year? We have a new disc done and are working on album art and stuff, so that should be out soon.
Where do you usually play? Bus stops & shit.
How do you get psyched up for a gig? Modern arnis.
What are your goals with your music? Pie-in-the-sky goal would be to be parodied by Weird Al, but with all the great festival gigs and internet support we've gotten, I think I'm good.
When did you decide to go all in for the music? Today, just before lunch.
Is it easier to get your inspiration from older bands or from bands more modern? It depends who's guarding their trash bins better.
What are your sources of inspiration? Video games & shit.
What's the first step when making a new song? Going through Faderhead's trash and figuring out what he doesn't want.
How do you feel about the downloading of music instead of buying albums? I think it's great. My apartment is small and I don't have room for all these CDs.
What would be your dreams for the band? They would be those fucked up lucid dreams where you're being chased by a werewolf, but still don't want to wake up.
Besides your own music, what genres and bands do you listen to? Really mostly industrial, to be honest, but I also like goth rock a lot, if that counts as a different enough genre. I also enjoy chip tunes and electo-y breakdance music.
What do you hold most dear? I think otters are awesome. Also comic books and hot sauces.
What would be your greatest fears for the future? They will make Willow 2 and it will suck.
When you are on stage, what do you fear most then? Tech failures. I have really no stage fright to speak of at this point, but something always seems to get fucked up with the sound or the visuals, probably because I'm an idiot.
What songs and what years were they released? Like, just name some songs? Any songs? I'll say Jimmy Ray's "Are You Jimmy Ray?" (1998) and Cannibal Corpse's "Orgasm Through Torture" (1996).
Have you been part of any other projects? I actually have a ton of other projects at the moment.
Please to check out:
Hardcore Pong – Angelspit + The Gothsicles doing stupid video game stuff
http://www.hardcorepong.com
Khionik – Syrinx + The Gothsicles doing house stuff
https://www.facebook.com/Khionik
The Causticles – Caustic + The Gothsicles doing goofy industrial stuff
http://www.facebook.com/thecausticles
False Edge – Death of Self + The Gothsicles doing angry industrial stuff
https://www.facebook.com/falseedge
DINOSAUR TANK – Me doing mostly chip tunes
Have you been in any other bands?
I currently play live in Caustic, The Dead Room, and am.psych.
www.tellmeaboutmyuterus.com
https://www.facebook.com/TheDeadRoom
https://www.facebook.com/am.psych
What do you work with outside of the band and the music? Underwear model.
What would you do if there was no music? Freak out and try to figure out why the laptop wasn't working.
What's the funniest/most memorable thing a fan has done for you? One time a nice lady wrote a really wonderful poem about how I was her favorite band and had changed her life, and the very next email in the inbox was a dude saying that I was basically the worst person on Earth on should be killed.
I guess it all evens out.
How often do you rehearse? Like a billion times a second.
Where do you rehearse? The LA Fitness in Streeterville. I've been asked to stop.
Name 2 of your own songs you like at the moment? Of the material that is currently in the world for this project, I will say "Show Respect to Aquaman" and "Terminus Festival is Going to be Awesome featuring Panic Lift".
What do you feel is the best live band you've seen? Kraftwerk or Devo.
What drives a band that isn't all that famous and renowned to try to make a living on their music and to keep playing? I have no idea 'cause we're fucking huge.
Any pearls of wisdom for all other bands out there? I used to go on drunk, but I've been doing the set sober lately and really recommend it.
Would you like to add anything else? Bring tape.
Describe your show, visually and musically A couple of guys freak out over electronics and nerdy shit with funny projected visuals and everybody is surprised at how much they enjoyed the set.
How do you view the musicindurty of today? I really don't understand it. It's like a super tough uncle that got mangled in a lawn mower accident. You don't know how the hell he's still alive, but it feels like he'll be holding on for forever.
What advice would you like to give other bands? There's an eight channel DI box from Behringer that costs all of $100 or so and it has saved more shows that I can count. Every band should have one of these.
http://www.sweetwater.com/store/detail/DI800?device=c&network=g&matchtype=&gclid=CjkKEQjwwbCcBRCxvJn9-N6dorwBEiQAVriOisPFeVWOzpd4kH1XkCfbayEhVHdpQlbg1ET5y9uJZovw_wcB
What are the biggest obstacles for a band? Sometimes the tour comes to a river and you have to have to decide whether to ford said river or caulk the van and float it across.
What is best/worst with playing the clubs? Sometimes when I'm playing clubs, I forget the point value of each card or make mistakes adding up all the cards at the end of the game.
Tell us about upcomming gigs and why we should be at them? August 13th at Reggie's in Chicago. That is all I can talk about at the time of this interview (6/2/2014).
Do you have anything to add? I think we're good.
Grave Concerns, August 26, 2013
Last Updated on Monday, 26 August 2013 21:28
The Gothsicles!
In recent years, Chicago's ultrasweaty industrial dance dorkstorm, THE GOTHSICLES, have played some of the most talked about live shows at some of the most premiere industrial music festivals around the globe. Compounding a ruinous mix of crass humor, video games and geek culture with an unapologetic EBM affinity, The Gothsicles' 2011 release "Industrialites & Magic" (WTII Records) reached the #1 spot on Amazon.com for "Most Downloaded" in the "Goth & Industrial" category.
Grave Concerns: Can you tell readers a bit about The Gothsicles and your humble beginnings?
The Gothsicles:The Gothsicles is (are?) a dancey industrial band with nerdy ass vocals and lyrics. There used to be a wikipedia page up with the whole spiel, but it got taken down for some dumb reason. The inception of the project was basically an attempt to get opening slots on band nights, thereby getting into industrial shows for free.
Grave Concerns: Growing up, what music did you listen to?
The Gothsicles: I was a pretty insane Weird Al fan and discovered industrial by like freshman year of high school with bands like Neotek and KMFDM. I remember Birmingham 6 being really big at my school as well, of all bands.
Grave Concerns: Was being a musician always your dream?
The Gothsicles: Yeah, I think it was more or less an inevitability.
Grave Concerns: If you were forced to enter into an entirely uncreative career, what would you be doing?
The Gothsicles: Web development for a semi-governmental organization, which is what I should be doing right now instead of this interview 'cause I'm at work.
Take a listen to: The Gothsicles – My Guy Died (Level 12 Human Sorcerer)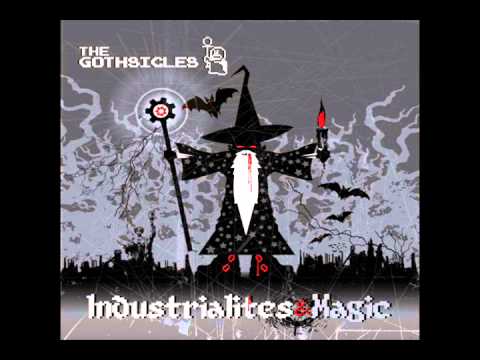 Grave Concerns:What is most rewarding about being in the music industry?
The Gothsicles: Well, I'm kind of a fanboy at heart for EBM/industrial/goth/whathaveyou, so just being in an environment where I can rub elbows with my heroes is pretty amazing. I mean, they sort of hate me just coming up and slowing rubbing their elbows in a methodical fashion while I stare into their eyes and slightly drool, but I find it very fulfilling.
Grave Concerns: Your unique sound attracts a a colourful audience, what have been some of the best, and of course the worst, fan encounters?
The Gothsicles: If anybody admits to liking my horse shit, I'm a fan of them right back, so interactions have been pretty awesome. I've been asked to sign a bunch of various Nintendo merchandise, body parts, and kitchen appliances, so that's cool.
Grave Concerns: You recently performed at Calgary, Alberta's Terminus Refueled festival. What can you tell us about this experience?
The Gothsicles: Man, that was a great gig. Because the festival was in it's infancy, it's hard to not be respectfully concerned about how well the event is going to be run in terms of things like set times, sound checks, stage management and so on ('cause who doesn't have a horror story?) but the Terminus crew was ninja-level on point. My laptop started fucking up right before our set (of course), but Gavin the Sound Guy sorted that out like a champion.
Grave Concerns: Other than your own wicked performance, who were some of your favourite acts at Terminus?
The Gothsicles: Oof, it's hard to pick out a couple, but everyone is still talking about Comaduster and Legend for a reason 'cause those guys where awesome. Faderhead, XP8, Defence Mechanism, HexRx…arg, they were all great.
Grave Concerns: Currently, what musicians are you listening to?
The Gothsicles: The last couple albums I've picked up are, as best as I can recall, Cygnosic's "Fire and Forget", Skinny Puppy's "Weapon", Leaetherstrip's "Yes, I'm Limited Volume 5", Surgyn's "Restitched" and that free sampler for the upcoming Triton Festival. All top notch stuff.
Grave Concerns: Can you tell readers about your collab with Caustic?
The Gothsicles: Oh hells yes I can! It's called THE CAUSTICLES and it will unclog your bowels. The new album is DONE AND JUST OUT NOW and I'm really pumped. We worked really hard on this one over a number of years. Pick it up at thecausticles.bandcamp.com!
Grave Concerns: What artist would you love to tour with?
The Gothsicles: Devo.
Grave Concerns: Was there a specific artist that made you want to enter into the music industry?
The Gothsicles: And One was really influential, actually. They sort of proved you could make goofy industrial music work.
Grave Concerns: What was the first live concert you ever attended?
The Gothsicles: In 7th grade, I saw Soundgarden with my friend and my dad. I wanted to look cool, so I didn't wear my glasses and my friend and I ended up passing his glasses back and forth between us like an old married couple.
Grave Concerns: What advice can you offer to aspiring musicians?
The Gothsicles: I started using Google Drive to write down lyrics and it's pretty great because you always have access to your ideas. It has fucked me once or twice when it didn't save, though, so I dunno.
CLick here and take a listen, it is awesome!
Grave Concerns: What can fans look forward to seeing from you for the rest of 2013 entering into 2014?
The Gothsicles: Now that The Causticles album is out the door, I can refocus on completing a new Gothsicles album by the year's end.
Grave Concerns: Any closing thoughts for readers?
The Gothsicles: I just learned there's a superhero themed night tonight at the club where I hang out. I have low budget costumes for Moon Knight and Starman (Jack Knight) ready to go, but I decided just now to pick up an orange shirt and green latex dishwashing gloves and go as Aquaman because I kind of have his haircut.
I Die: You Die, August 1, 2013 (Causticles)
August 1, 2013 | Category: Featured, Photograph
"I fucked Bono in the ear and had a rocktung baby"
Yeah, that's right, it's another feature named after a Gary Numan song. This time out we're asking musicians to reflect on an album they've just released. Imagine replicants in Blade Runner shuffling through their snapshots in an attempt to show indexical proof of their own lives and works, only with more sawtooth leads. Anyway, who better to inaugurate this new feature than one the first people we ever interviewed for ID:UD, Brian Graupner of The Gothsicles, and one of only two people to ever have been interviewed twice for the site, Matt Fanale of Caustic, on the occasion of their debut collaborative release as The Causticles? Eric Gottesman, named after the Kevin Bacon of industrial music (and ironically the other person we've yakked to twice here), is the first release on Matt's new Undustrial Records label, and we asked the guys a couple of questions about process and distro before passing the mic to them.
ID:UD: Although this is the first Causticles record, you've both worked together numerous times. How long has the idea of doing a collaborative record been on the table? How long was the gestation period for Eric Gottesman?
Brian: Caustic and The Gothsicles used to play a ton of shows together and "The Causticles" started out as a way to refer to that grouping, but during the 2009 tour with Prometheus Burning, Matt came up with the idea of actually making the name into an actual "band". The album, Eric Gottesman, has actually been in the works for almost 4 years between releases from our own individual projects and whatnot.
Matt: I came up with it? Awesome! I TAKE ALL THE CREDIT. And yeah, it took a long time. Between me and Brian cranking out albums, shows, festivals, blow, hookers, construction jobs, library dedications, and the creation of several maple syrup companies we've been pretty busy. The Causticles was definitely a start/stop type of project until the last 10 months or so. Basically one of us worked on stuff while the other worked on their own main project and then switched when shit started getting busy for the other person. I remember distinctly writing Causticles ideas in at least 3 countries…with the U.S. being one of them.
ID:UD: Both Caustic and the Gothsicles have worked with outside producers recently, but Eric Gottesman feels like a much more DIY effort with much of the album's production kept in house. Was that a specific decision you made for the sake of efficiency and cost, a creative decision, both, or something more?
Brian: Heh, opposite day for you. Most of the album was produced by Josev F of Dagger Eyes Studio and CTRLSHFT with individual tracks done by Dan Clark (The Dark Clan / Magma Dragon) and Andrew Sega (Iris). This decision was made so that the album would sound gooder.
Matt: Josev's been a pal of ours from when he lived in Madison (he's played as part of Caustic several times as well) and I brought him in to do some production on The Man Who Couldn't Stop last year. It, unsurprisingly, ended up sounding awesome, so we just kept chucking him tracks to work his magic on. I think it ended up helping the overall consistency of sound on the album, plus Josev just knows how to mix flawlessly, so every track he got his hands on came out sounding incredible. We were really lucky to get so much of his time.
"I don't care as much about maximizing profits as making sure as many people as possible hear the music."
ID:UD: You're also making this the first release on your own label Undustrial. Can you speak to the goals of the label, and how they might dovetail with the release of Eric Gottesman?
Matt: Undustrial was something I more or less just whipped together in the last few months. Metropolis wasn't interested in taking on the Causticles debut or the Caustic EP (EPs don't sell very well if they're released as physical CDs), so I figured it's a good time to start self-releasing again. The basic philosophy of Undustrial is to create a label that's more relationship than business based. I don't care as much about maximizing profits as making sure as many people as possible hear the music. With that in mind I've tried to go out of my way to be massively fan, DJ, and artist friendly. I've been able to (as of this writing) build a fanbase of over 1000 people on Facebook right off the bat, and I've relied on word of mouth to get people news on our releases. I pretty much just made the label I'd want to buy from and support.
I've basically just tried to be as transparent and honest about the release and label as possible, like letting people hear a full album preview the day before it went on preorder. That could have totally backfired if people didn't like the album, so it forced us to not only be ready to defend our output, but also allowed us to really believe in what we made. Luckily people seem to be enjoying the album a lot, and even more luckily the marketing and deals I've offered have been getting taken advantage of, so while we're not making a lot by doing specials we're moving copies and trying to put together a solid foundation of people that will ideally support what we do and help spread the word on our music. Since this is pretty much exclusively related to releasing projects I'm related to it's a direct extension of how I work as Caustic, so I hope people are excited about what's to come. I know I am.
I really hope that whatever success Undustrial has can inspire other people not to worry about getting on a label to try and do their thing and maybe strike out on their own. It's not easy, but it's a lot more rewarding, plus, honestly, it's a lot more fun when you know you can pull it off.
The Causticles: A better name than Gothstic, which sounds like a gothic deodorant.
—
Resultant Forces
Matt: This is an expanded version of the intro track we did when we did our first show opening for Assemblage 23 and Espermachine in November. I just realized it, but for some reason I always seem to have an opening track when I do the first show for a new project – I had one for Caustic's and Parasite Twin too, I think. Weird. Mostly I just wanted to use the "Inbetweeners" sample because I think it's hysterical. Our UK fans pick it out right away, as do some of the cooler US folks.
Brian: After reading Matt's above statement, I had heretofore forgotten the actual scope of how long we've been friends and how much this project means to me. I did guest vox at that first Caustic show and am realizing now the implications of that. Damn, man. Way to open a commentary.
I was looking through physics lectures to try to trick my girlfriend into thinking that I'm smart, and then this dude just served up this awesome dreamnugget of a sample about the resultant forces being F and G. Our last names are Fanale and Graupner. (GET IT?)
Matt: We're very clever. You know it, girlfriend.
Ruin The Party
Matt: I actually think this is the first track we wrote and/or finished for the album, so this one is at least four years old. I tossed together the demo for it and Brian fleshed out a lot of the sounds and fortunately we actually got the structure right pretty much the first time. We collaborated some on the initial lyrics, but I ended up changing some of them because they were all about getting hammered and destroying the party and, well, I quit drinking in the time the initial lyrics were finished. At one point early on I suggested we call the album Los Hermanos Borrachos (poorly written "the drunk brothers")
Brian: Not only was this track the first foray into figuring out how we were going to work together on a mechanical level, it also represents some of our initial collaborations and agreements on what could be done thematically. When Matt proposed a chorus of "DOUCHELAND ÜBER ALLES", my Spidey-sense ramped up to 11 as in, "Holy smokes, that could completely be taken as really fucking offensive" but something about that coming from the combined energy of our two monumentally irreverent projects quickly made me ready to jump in head first. I also love the punch-ups Josev was able to do in production and mastering on this one, particularly with the drums, which became much more crisp.
Matt: I thought this was a great lead-off track—a manifesto of stupidity. Plus I liked saying we fondled cops.
Headbutt To The Guts
Brian: The working title on this was "Fragrant Mushrooms", which was a road joke from the 2009 tour with Prometheus Burning. I think we saw that listed on a menu somewhere and thought it was funny, and that's sometimes all it takes for a song title. I couldn't get any lyrics out of that concept, however, and had this weird idea to basically steal Covenant's "One World, One Sky" while referencing tiger-uppercuts 'cause Street Fighter II is my jam. I love the song's contrast of big soaring Gary Numan pads against these grindy little screwed up industrial noises. Dan Clark produced this one and made the second of my "YEAH"s be in outer space, and I thought that was cool.
Matt: This is just the first of many examples where I sent Brian the skeleton of a demo and he basically just whipped it into an anthem. This is probably the most "Gothsicles" track on the album, but it's still totally Causticles. One of the really fun things about working on this with Brian was the give-and-take in terms of who did what wasn't really defined—sometimes one of us had a skeleton of a track, sometimes just an idea, or sometimes a full instrumental demo, but we just worked with what we had and tried to knock it out of the park every time. No egos, no bullshit.
Spacebugs
Brian: Matt came to me with this track's raw structure and goofy ass sample which he explained was from Children's Hospital, and I shamelessly shoehorned it into being about H.P. Lovecraft's "From Beyond". The video game riff that kicks in towards the end is also pretty shamelessly Gothsiclian. I mean, I do have a lot of shame in my life, but not as far as this track is concerned.
Matt: This is a great example of both how nerdy we are about stuff and how many layers there are (okay, it's only a few) for some of the tracks. I'm not familiar with Lovecraft very much so I don't get the references, but it's just so damn fun it can be enjoyed on the surface level too. I think this is by far the catchiest track on the album, too.
(I'm Not) Funtional
Matt: This one musically was all Brian. I think I may have added some pads or something and relooped the samples, but this is kind of the "surprise serious song" on the album. Brian did the music and samples and I did all the lyrics. The chorus was actually something I wrote years back but never found a song for, so it's kismet that this came along because I think it works perfectly for it. It's a really personal song for me, almost a prequel to "White Knuckle Head Fuck". I'm extremely pleased with how it turned out.
Brian: This is my my favorite song on the album for many reasons. It's a double barrel blast of Matt's surgical command of lyrical content, both in the razor-sharp economy of its word choice and in its knife-edged ability to cut me wide open. When I was writing it, I'd envisioned this song as being a vocalless "sample track", but the addition of these searing verses that I know could only come from a place of addiction are now indelible to the track. It's possible I'm putting too much emphasis on the lyrics because Matt was able to overcome his drinking and I'm not quite there yet, but that's also another reason why this song is especially weighty for me. Musically, this is one of the few where I did the majority of the percussion, which is usually Matt's domain, and that was fun. The little Nintendo drum loop that kicks in at the break was my attempt at chiptune reggaeton.
Matt: This track means a ton to me too, Brian. It was kind of hard revisiting where I was in my head when I was drinking as hard as I used to, and I wrote and rewrote the lyrics a bunch of times until I just hit on the simple "you don't understand…" line, which, for pretty much anyone hooked on booze or drugs, becomes a very standard expression. I kept the lyrics pretty simple, which is hard for me as I automatically think "simple" means "bad", but in this case the directness really added to the power of the song. It may be weird but I think this is the song that really bonded Brian and I over the album. Not that we had any problems, but this song has an obvious depth and deals with subject matter that's close to us both. I'm just glad it's gotten as positive a response as it has, as I was worried about this one since it's the one really serious song on the album.
The Matrix Is Real
Matt: To the best of my knowledge this was one of the only random demos I sent Brian that actually kept it's stupid draft title. It was also the song on the album I had the most trouble with finishing as I couldn't for the fucking life of me lock it down. Brian added some good layers to it and I finally realized how much I hated the drums on it, so when those got swapped out for the final version's I ended up being really happy with it.
Brian: It's funny 'cause they say dick and shit. I like the jaunty little riff it has, and also where they say cock and fuck.
Matt: This song pissed me off for more than a year. Now it's one of my favorites on the album. Why? Total Causticles stupidity. That and better drums.
Snail Hatin'
Matt: This is an in-joke from the 2009 Caustic/Prometheus Burning/Gothsicles tour. I'm not sure who came up with it but we ended up chanting it during a ProBurn set or two when I popped up on stage. Of course it's kinda obvious that it sounds like "Hail Satan", so we'd giggle when people would start throwing super serious devil horns at our stupid joke. Nikki could really sell it though, so who's to doubt her Satanicness?
Brian: Big ups to Nikki for the vox!
True Tales Of Made Up Adventure
Brian: Most of these tracks are, unsurprisingly, created by sending material back and forth electronically, but this is the only one on which a good chunk of it was made by taking turns on the same physical set up. I'm actually still using little audio tricks and tidbits I learned/stole from that session for Gothsicles stuff. As for the track itself, Matt had this amazing idea to approach a D&D style adventure in song format, but only vaguely paying attention to any sort of established premise or rule standard beyond that. That shit about the gnome urine makes me laugh really hard in my body.
Matt: Yeah, I forget why I was in Chicago but Brian and I spent an hour or two just messing around and this little riff came out of it. The fantasy adventure scenario was just an idea that made me laugh, as I'd never heard it happen in a song before. I think it's funny that Brian's talking more in time and I'm just narrating during the track, too. And since we're sucking each other's dicks on lyrics, Brian's "I can take it or leave it" line makes me chuckle up in my guts.
iRöcktüng!
Brian: Another one where Matt gave me this awesome title and I had to spin my wheels trying to create lyrical content around it. I know the line "I fucked Bono in the ear and had a rocktung baby" makes it sound like after I fucked Bono in the ear, I also had the baby myself, which obviously doesn't make sense, but what I meant to say is that after ear-fucking Bono, we had the baby together, like when couples say "we're" pregnant. This track is also another example of Josev really injecting that dancefloor "pop" into the kick drum.
Matt: I'd envisioned this as a little electro instrumental, but then Brian sent me this fucking awesome demo with this big chorus (I used vocoder like a madman on this album—or as mad of a man as I could). The title was something my wife said when we were at a carnival so I made a mental note that I needed to write that. Is it sad that I googled it to make sure there weren't any other songs called "Rocktung" out there?
We're (Literally) Here For Your (Figurative) Pussy
Matt: Chalk this one up to a stupid title that I decided just had to be made. If it wasn't evident from some of the other songs and lyrics I let a lot of stupid hip-hop stuff get into my skull for this album, and so this was kind of a passive aggressive, lame 2 Live Crew parody, title-wise. Then it became a test to see if I could say essentially the same thing in the lyrics using synonyms. Yup, I'm a total shithead.
Brian: I mean, it doesn't need to be just figurative.
Matt: I'm married. It's figurative. Also, I think Causticles is instrumental cockblock music anyway. Our groupies will be few on this one…
A Case For Hate Speech
Brian: Originally appearing as an exclusive track on the first Resistanz Festival compilation, now largely remixed, punched up and vocalized. I was having a shitty day at my tech job and couldn't get anything to work right and was able to channel that into this song. Matt makes a Kraftwerk reference that keeps it from getting too mopey, though.
Matt: We talked about redoing this for the album just so we'd have a different version, and Brian took over the production and remixing on it while I pumped my energy into "Causticles Ain't Nuthin Ta Fuck Wit". Those were the last 2 tracks for the album and I think we finished 'em with a bang.
Also, I not only made a Kraftwerk reference, I also made a Philip K Dick AND Nitzer Ebb reference. I originally made a Bishop (Aliens Bishop, not comic book or chess Bishop) reference too, but the Kraftwerk one worked better. If anything can be said about the album, it's definitely got a lot of dorky references.
Stranger Danger
Brian: When Matt showed me the source material he intended to sample, they go through a bunch of different "stranger" scenarios and I was like, "Okay, this could work" and then they suddenly, they drop this "I'LL KILL YOUR DOG" psychopath and I'm like "Oh, fuck. This is gonna be really good". I was able to make what I think are some cool dancey arps and whatnot to go along with Matt's cool effects and snares and I dig the result. "Sorcerer Supreme" is another appellation for Dr. Strange (GET IT?).
Matt: Again, here are the dorky references – Camus AND Dr Strange. We're so good it hurts. Also, let's give it up for stupid 80's PSAs on child molesters! I don't want to minimize children getting kidnapped, but I do want to minimize how awful those PSAs were and how little I think they did to help anyone.
The Causticles Ain't Nuthin Ta Fuck Wit
Matt: There's a Wu Tang reference in "Ruin the Party", so why not end the album with a stupid rip off of a Wu Tang song title? This song came about for a few reasons: 1) Brian and I had contemplating doing a rap song where we complimented each other a lot, and 2) People kept calling for a "duet", and even though Brian and I did a lot of vocals together on most of the songs none were actual split tracks. Also, it amused the shit out of me to do a song called "The Causticles Ain't Nuthin Ta Fuck Wit". Which, I guess, can be said for most of the song titles.
Brian: Some pretty good lyrical content on this one, I think. Matt's little half-laugh is totally bad ass, I really like the visual of my good friend and I showing at the Iditarod registration in band shirts and cut-offs, trying to convince the lady that we didn't bring any dogs and were just gonna pull our own sled.
Matt: The Iditarod reference may be the funniest thing on the album. Keeping up with Brian lyrically on this track was a bitch, and I wrote my verses first!
Eric Gottesman is now out digitally and on CD.
---
REVIEWS
"5/5 stars"
ReGen Magazine, June 19, 2015
The Gothsicles
Category: EBM / Industrial
Album: Squid Icarus
Stars: 5
Blurb: Probably the defining Gothsicles album, with a wash of great songs and beats from start to finish and more insider secrets than you will ever decipher.

I think about aliens a lot.
Some of it is unnecessary, I know. There is virtually no chance that people from another planet will be taking American jobs from us anytime soon. And I probably won't get to start my sex toy company modeling dildos from alien species all over the galaxy; because we don't live completely in the future yet.
But we live far enough in the future to have this… and I think the aliens would love it.
A first look at Squid Icarus, the fourth full-length album by The Gothsicles suggests it's an exercise in excess. The brilliant cover mash-up melds the design aesthetics of Angelspit and hyperreal photographer Emily Gualdoni to turn Gothsicles lead, Brian Graupner into the videogame superhero he was born to be. And the album is full of pretty seamless integrations, from producers like Assemblage 23, Faderhead, Rotersand, Angelspit, Cyferdyne, Christ Analogue, and Haujobb.
If anything on that list excites you, it's likely that you will get a lot out of this sound.
The sound itself? The Gothsicles here have crafted exactly what it would sound like if EBM and chiptune got angry naked drunk at a Prodigy concert inside a videogame convention and fucked over the sleeping body of Bob Moog while reading a comic boo… and then kept the baby. But I promise you that somewhere in the middle of the first song, you'll be glad they did.
And that first song is "Super Scary Action Figure (I Want to Eat Your Brain)." If you aren't a Gothsicles fan at the start of this, you may be surprised originally by Graupner's "hold nothing back" vocal delivery, but it's meant to brutalize your senses and remind you that he means this shit. None of it is just some half-assed casual hobby; this is pure investment, and it's an immediate rebuke to anyone who insists that electronic music has no soul. In a way, as well, it's a rebuke to anyone who thinks that these things, the things he sings about powerfully, don't matter. I'm reminded of a friend who showed me his entire room dedicated to action figures. "It's not a joke; it's my life."
Powered by a high school sitcom sample and a deeply catchy chiptune lead, "Drop Dead, Squid Face!" is a stomping club song that wouldn't be out of place at a D.A.F. show. In fact, I dare anyone to watch the many YouTube videos of the band performing this track and not walk away feeling the D.A.F. reference strongly, in case we forgot that there was a time in history when stages were wrecked by punk and EBM colliding over analog synths in dirty half-legal clubs.
The third track, "Ultrasweaty" is probably the runaway hit of the album, with a unique (to The Gothsicles) robotic lead chorus and a passionate rhythm that feels like a good bet for just about any dance floor. This is another song that promotes excess, and to sit in the front row of one of the band's shows and watch the fans dance, it's clear that the message comes through loudly.
By this point, it should be clear what kind of glove we're talking about in "I Sniffed the Glove," even if Cyferdyne infuses the classic Gothsicles sound with blasts of guitar and a second vocal. And the production on "Give Me One More Chance to Get the Hi-Score, Then We Can Go" and "Moon Knight is Cool" lets you forget easily that both are a complete lie. No way is he going after hitting the high score and Moon Knight hasn't been cool since…
Oh, fuck it! The Warren Ellis Moon Knight has always been cool.
"Chip Replacement Surgery" and "Slime-Half" are both pure chiptune short sonnets that provide a needed break in the constant dance floor throb of the album, while a high point in the album is the cover of Nine Inch Nails' "Black T-Shirt" from the controversial Strobelight album. Like most great cover songs, you can hear the original in there, swimming hard, hoping to catch up, but in the end, Graupner's expression of the song hits on all cylinders, both on the album and when performed live.
"Sword Cane" is an elegy to the classy and cultured art of swordcaneage advanced by such experts as Zatoichi, and the heavier, bulky groove of "Cthulhu Fhartwagon" describes perfectly what every artist ever goes through in the tour vehicle.
But nowhere on the album does Graupner reveal his aesthetic as much as on "Bloodlust Software Was Awesome," an homage to… well, Bloodlust Software, a videogame company that rebelled against the prevalent hyper-serious ultra-violent videogame reigning culture with a tongue-in-cheek sort of cartoon violence that often included killer lawnmowers, cannibalism, transvestite furries, and other absurd adventures into pixelated battle.
Angelspit joins Graupner for "This Club is Closed," whose classic two-fingered EBM bass line is already a favorite of club managers and bouncers all over. Is it a cheap shot at being played every night? Yes. Will it work? I have no doubt.
The hidden track, "Riding Roller Coasters with Peter Spilles" is another short and ambient track that rounds off the album, reminding us that if you have a chance to talk to the Project Pitchfork vocalist about something dumb, you probably should take it. It's all roller coasters, death, life, everything.
When the aliens do come, I want to be able to hand them over some amazing music and say, "This is what we do, we humans. We pull together our friends and write catchy songs that are about things that make us smile and we celebrate our fucking lives so hard that we can't walk anymore. This is how we have Stevie Wonder's Songs in the Key of Life. This is how we have Paul's Boutique by the Beastie Boys. This is how we have that one Prince record that no one will give me back after they borrow it. And this is how we have Squid Icarus. Now, take this and don't blow up the planet."
Track list:
Super Scary Action Figure (I Want to Eat Your Brain)
Drop Dead, Squid Face!
Ultrasweaty
I Sniffed the Glove (vs. Cyferdyne)
Give Me One More Chance to Get the Hi-Score, Then We Can Go
Moon Knight is Cool
Chip Replacement Surgery
Black T-Shirt (NIN Cover)
Sword Cane
Cthulhu Fhartwagon
Bloodlust Software Was Awesome
This Club is Closed (feat. Angelspit)
Slime-Half
Riding Roller Coasters with Peter Spilles (Hidden Track)
The Gothsicles Website http://www.thegothsicles.com
The Gothsicles Facebook http://www.facebook.com/thegothsicles
The Gothsicles Twitter https://twitter.com/dark_NES
The Gothsicles ReverbNation https://www.reverbnation.com/thegothsicles
The Gothsicles Bandcamp https://thegothsicles.bandcamp.com
Negative Gain Productions Website http://www.negativegain.com
Negative Gain Productions MySpace http://www.myspace.com/ngp
Negative Gain Productions Facebook https://www.facebook.com/pages/Negative-Gain/212061438836984
Negative Gain Productions Twitter https://twitter.com/NegativeGainNGP
Negative Gain Productions Bandcamp https://ngpofficial.bandcamp.com
Purchase at:
Amazon CD
Amazon MP3
Bandcamp
Storming the Base CD
2014-12-15
Jim Marcus (mutilato)
"The electronic part of this work is absolutely remarkable and sometimes magic."
Side-Line Music Magazine, February 23, 2015
Genre/Influences:
EBM, cross-over, cyber-rock.
Content: The Gothsicles have signed to Negative Gain Productions after having released their previous two full lengths on WTII Records. This band powered by Brian Graupner can look back at a respectable discography featuring multiple sampler contributions. The band never gained a major reputation here in Europe, but working with a new label might be an opportunity to increase their popularity.
"Squid Icarus" is a damned weird, but fascinating experience in sound, which takes off with the brilliant "Super Scary Action Figure (I Want To Eat Your Brain)". This song sounds a bit punkish while acid filtered bleeps run through the song. The enraged format reminds me a bit of The Prodigy so you can imagine my excitement after this opener. The song is not representative of the entire album, The Gothsicles rapidly appear to be a real open-minded formation experimenting with multiple influences.
The electronic part of this work is absolutely remarkable and sometimes magic. The EBM element is absolutely impressive, but I also have to mention great, melodic loops and overwhelming synth lines. The synth parts are really alluring and a bit 80s inspired. But "Squid Icarus" also reveals a punkish touch, which especially comes through in the vocals production. The main vocal parts are produced a heavy screaming style, which takes some time to get used to. Speaking for myself I prefer the somewhat robotic effect running through a few of the other cuts. "Moon Knight Is Cool" and the more clubby-minded "Sword Cane" both are great pieces in the genre. "Ultrasweaty" is another similar 'robotic'-minded piece and still the biggest potential hit of this work. This song is more conceived in the typical EBM vein, but here again The Gothsicles left me stupefied by their overwhelming sound treatments.
Another particular and noticeable song is a cover version of NIN's "Black T-Shirt". Brian Graupner also asked a few guests to achieve some songs. Cyferdyne joined hands on "I Sniffed The Glove" while Angelspit was featured on "This Club Is Closed".
Conclusion: This album sounds like pure fun, but behind this totally weird production also shelters great electronic arrangements.
Best songs: "Ultrasweaty", "I Sniffed The Glove vs. Cyferdyne", "Sword Cane", "Black T-Shirt", "Bloodlust Software Was Awesome".
Rate: (DP:8)DP.
Band: www.thegothsicles.com / www.facebook.com/thegothsicles
Label: www.negativegain.com / www.facebook.com/pages/Negative-Gain/212061438836984
"This release has some of the sickest EBM beats out there right now…"
Slug Magazine, February 5,2015
The Gothsicles
Squid Icarus
Negative Gain Productions
Street: 12.13.14
The Gothsicles = Bobcat Goldthwait + Caustic + Modulate
This release has some of the sickest EBM beats out there right now, and they have the added bonus of every gamer's auditory delight: chiptune. Brian Graupner's voice, on the other hand, is something like caviar, anchovies or escargot—a little rich and pungent at first, but then you grow to love it. It most certainly is an acquired taste. Some of the contributing industrial minds on this geek fest were Haujobb, Assemblage 23 and Rotersand. As the promotional material looked like it was straight out of a gaming guide, I envisioned them rolling their 20-sided die to see which beats they were going to use and where they were going to be placed. The hysterical closing anthem, "This Club is Closed," featuring Angelspit, will be shutting down the bars nightly in the industrial community everywhere. I loved the music and its hilarious tales of the octopi. –Mistress Nancy
"These Americans make Industrial, EBM with the swagger of The Prodigy."
Peek-A-Boo, January 22, 2015
THE GOTHSICLES
Icarius
[CD]
EBM • Electro • Industrial
[80/100]   

Negative Gain Productions
22/01/2015, Wim GUILLEMYN
---
These Americans make Industrial, EBM with the swagger of The Prodigy. Guys with a big mouth and ditto music. Wondering if among those testosterone there is some music to. In any case, the 15 band members appear to be less dangerous than you might think at first hearing.
In terms of rhythm and voice, I always think of The Prodigy, especially opener Super Scary Action Figure clearly radiates some of their attitude. In many songs they use beeps and voice distortions, but they are not as mainstream as the aforementioned example. Quite a few songs are created together with others and that sometimes leads to beautiful results. On I sniffed at The Glove they work together with Cyferdyne, a beautiful EBM in which they laugh with themselves and with Arnold Schwarzenegger.At the end they sing the chorus to the melody of I Kissed The Girl by Kate Perry. Hilarious.
This Club is Closed is a collaboration with Angelspit, with a rhythm section that reminds me of Run DMC or even The Black Eyed Peas. Black T Shirt is a cover of NIN. The singer sings a bit in the Beastie Boys style. You have to love it, but it works nicely. Bloodlust Software Was Awesome is almost house, and would do well on the dance floor. Valve Slime resembles music of the era of the arcade computer games, with a familiar sounding melody.
Ironical, over the top and cartoonish are adjectives that apply to this band. Musically everything is okay.
Wim GUILLEMYN
22/01/2015
---
Deze Amerikanen maken Industrial, EBM met de branie van The Prodigy. Kerels met een grote mond en dito muziek. Benieuwd of er onder die laag testosteron ook nog boeiende muziek zit. De 15 bandleden lijken in elk geval minder gevaarlijk dan je op het eerste gehoor zou denken.
Qua ritmiek en stemgebruik moet ik onwilligkeurig enkele malen aan The Prodigy denken. De opener Super Scary Action Figure straalt duidelijk hun attitude uit. In vele nummers zijn ze, ondanks nogal wat gebleep en stemvervorming, meer mainstream dan het eerder genoemde voorbeeld. Nogal wat nummers zijn samen gemaakt met anderen en dat levert soms mooie resultaten op. Voor I sniffed The Glove werken ze samen met Cyferdyne, een mooie EBM waarin ze o.a. lachen met zichzelf en met Arnold Schwarzenegger. Op het eind zingen ze het refrein op de melodielijn van I kissed The Girl van Kate Perry. Hilarisch gewoon.
This Club is Closed is dan weer een samenwerking met Angelspit en heeft een ritmesectie die wat weg heeft van Run DMC of The Black Eyed Peas. Black T Shirt is een cover van NIN. De zanger zingt een beetje in de Beastie Boys-stijl. Je moet ervan houden, maar hier werkt het wel aardig. Bloodlust Software Was Awesome is bijna house en zou het goed doen op de dansvloer. Afsluiter Slime-half lijkt op een muziekje uit de tijd van de arcade-computerspelletjes, met een verdacht bekend klinkend melodietje trouwens.
Ironie, over the top en cartoonesk zijn adjectieven die bij deze band passen. Maar muzikaal zit alles wel goed in elkaar.
Wim GUILLEMYN
22/01/2015
"Co więcej można powiedzieć o tym albumie? W zasadzie to samo, co przy każdym albumie The Gothsicles: FUCKIN' AWESOMENESS!"
Jeszcze tego nie słyszałeś, January 24, 2015
The Gothsicles – Squid Icarus
Czasem tak mam, że zaczynam szukać czegoś, co zainteresuje mój spaczony już gust (nie tylko muzyczny). I tak oto czasem znajduję coś nietypowego i jedynego w swoim rodzaju. No bo ileż można słuchać tych wszystkich perfekcyjnie dopracowanych w pocie czoła, szlachetnie brzmiących utworów reprezentujących znane nazwiska/projekty? Można w nieskończoność, ale ja jednak tak nie potrafię i tu z odsieczą przybywają – jak to sam określiłem – lolbandy. Mamy niby
Mindless Self Indulgence
, Scootera czy
Pentallikę
, ale po jakimś czasie
I WANT MOAR
. I tak oto w blasku chwały, z zakątków najodleglejszej galaktyki, z odsieczą przybywają pogromcy industrialu. Przed Wami, moi drodzy – The Gothsicles.
But who da fuck is The Gothsicles you may ask, my padawans, right? The Gothsicles to zespół dowodzony przez uzbrojonego w Power Glove'a Briana Graupnera na 69 lvlu, którego głównym skillem jest rozprzestrzenianie zwariowanych, geekowskich pieśni swego ludu po naszym nudnym świecie. Na swoim koncie mają aktualnie 4 pełnoprawne krążki i dziś zajmiemy się tym ostatnim, sprzed mniej więcej miesiąca, "Squid Icarus".
O ile poprzednie płyty stawiały głównie na jazdę po jajach przy akompaniamencie dość prostych beatów i 8-bitowych dźwięków, tak już przy pierwszym kawałku "Super Scary Action Figure (I Want To Eat Your Brain)" czujemy, że mamy do czynienia z tworem, który dostał +10 do produkcji i zajebistości. Prawdopodobnie jest to zasługa Kickstarterowej akcji, dzięki której tenże album ujrzał światło dzienne. No i jak to z tym (s)tworem jest? Nie od dziś wiadomo, że większa część (s)tworów Kickstarterowych została okrzyknięta failowymi crapami, ale w tym przypadku myślę, iż byłoby wielkim nieporozumieniem przyklejenie tego typu nalepki do tego albumu, zwłaszcza że w razie czego może się sam bronić mackami. Mackami? Tak, mackami moi drodzy, ponieważ Brian postanowił przesycić teksty nawiązaniami do Lovecrafta, które możemy zauważyć już po takich tytułach jak "Cthulhu Fharwagon" czy "Drop Dead, Squid Face!". Następną dość zabawną rzeczą, jaka rzuca nam się w oczy (i uszy), jest cover Nine Inch Nails, "Black T-Shirt" który… tak naprawdę nigdy się nie ukazał i był tylko primaaprilisowym żartem Reznora – tak więc mamy kolejny żart naszego warriora. Co dalej? Album promował utwór "Ultrasweaty", który budził trochę moje obawy ze względu na zastosowanie w nim… vocodera. Tak, tak, wiem, że brzmi to bardzo, ale to BARDZO dziwnie, że nagle ja – ten, który lubi zabawy z dźwiękiem i głosem – nagle ma jakieś WTF. No ale #takbyło, bo IMHO "krzykliwy" wokal Graupnera to swego rodzaju wizytówka, której nie trzeba w żaden sposób zmieniać.
Oczywiście nie mogło tu zabraknąć nawiązań do 8-bitowych gier – zarówno w tekstach jak i samplach, które usłyszymy np. w "Give Me One More Chance to Get the Hi-Score, Then We Can Go" czy "Moon Knight is Cool". Oprócz tego mamy okazję usłyszeć gościnny udział Cyferdyne w "I Sniffed the Glove (vs. Cyferdyne)" oraz Anglespit w "This Club Is Closed". Na albumie znajdziemy też dwa 8-bitowe fillery w postaci "Chip Replacement Surgery" i "Slime-Half". Mam wrażenie, że Brian po prostu chciał przybliżyć swoim wyznawcom swój mniej znany projekt chiptune'owy DINOSAUR TANK. Jak już jestem przy innych projektach, to wspomnę o "Bloodlust Software Was Awesome", który dość mocno wzoruje się na utworze "A Case For Hate Speech" The Causticles (czyli połączenie Graupner + Caustic).
Co więcej można powiedzieć o tym albumie? W zasadzie to samo, co przy każdym albumie The Gothsicles: FUCKIN' AWESOMENESS! Zwłaszcza dla osób, które lubią dobre EBM-owe granie z chiptune'owymi wstawkami i nerdowskimi tekstami przesyconymi dość sporą dawką humoru. Jeśli nie znaliście, to czas na zmiany i… w klubach też.
A, no i zapomniałbym! Pierwszym progiem Kickstarterowego wsparcia było nagranie przez nich coveru innego zespołu, który otrzyma najwyższą liczbę głosów w głosowaniu. Głosowanie wygrał Falco i jego Rock Me Amadeus.
– See more at: http://jeszczenie.pl/gothsicles-squid-icarus/#sthash.W9XukYEc.dpuf
"…lives up to the standards of humor and cleverness we've come to expect from the 'sicles."
The Spill Magazine, February 6, 2015
The Gothsicles
Squid Icarus
Negative Gain Records

The Gothsicles' fourth album Squid Icarus, released in December of last year by Negative Gain Productions, lives up to the standards of humor and cleverness we've come to expect from the 'sicles. The added treat with this Lovecraftian geek culture dance party (as it's been referred to by the folks over at Negative Gain) is all of the big-name producers who had a hand in the album. Faderhead, Christ Analogue, Rotersand, Assemblage 23, Haujobb, the Dark Clan; and collaborators including Zoog von Rock of Angelspit and Peter Spilles of Project Pitchfork all contributed.
This album has a little bit of something for pretty much anyone who even remotely likes anything resembling industrial music and/or has a sense of humor. Even if you can't necessarily relate to the songs, you're likely to appreciate them. Brian "dark_NES" (NES from Nintendo Entertainment System) Graupner, founder and core member of this self-described ultra sweaty industrial dance dorkstorm, does all programming and vocals for the band. Graupner, it seems, is brilliant and an aficionado of all things geek-culture, as is evidenced by both the music and lyrics. My educated guess is that titling the album Squid Icarus is a nod to the online game Guns of Icarus (Squid is a ship in that game). Although to be fair, it could be a nod to the Icarus, son of Daedalus of Greek mythology. I'm placing my bet on the game.
Graupner doesn't take himself too seriously. Included in the 14-track album is "Black T-shirt" (listed as a NIN cover, and produced and mixed by Josh from CNTRLSHFT), for example, is about the plethora of black T-shirts one sees in the industrial crowd ("the cornerstone of all industrial merch", Graupner says) – sometimes with a slight variation (he mentions both V-necks or sleeveless shirts, for example). Imparting sage advice for finding a good deal ("I'll stock up on the three-packs from Calvin Klein too 'cause three for under 30 is a good value") as well as what might be the logic behind wearing them ("it always looks clean 'cause you can't see the dirt"), the lyrics are undeniably honest.
A close second in the silliness category is "Cthulhu Fhartwagon", produced and mixed by Dan Clark of the Dark Clan, Stromkern, Siv, and formerly of Null Device, among others, reminding us all to never let Graupner borrow our vehicle, even in the direst of straights. Relating his experience while using his brother's van to transport the band's equipment to a show and polluting it with the "hella bad gas (they get) from drinking beer by the buttload" while finding all kinds of weird things strewn about the vehicle (such as "a glass with the inscription 'all-American sports fan', colouring books, and six bucks in change"), the song also manages to (imperfectly) rhyme the word "malady", a feat that is noteworthy all by itself.
Angelspit's Zoog von Rock appeared musically and vocally on "This Club Is Closed," and the track was produced and mixed by Krischan Wesenberg of Rotersand. This one is an upbeat electronic track telling people to get the hell out in numerous ways from the perspective of someone trying to clear a dance club. The 11 additional songs include "Ultrasweaty" (again mixed and produced by Krischan), which tells a little bit about the experience of seeing the Gothsicles live (they "get ultrasweaty") and instrumentals "Chip Replacement Surgery" and "Slime-Half." Introducing the album is "Super Scary Action Figure (I Want to Eat Your Brain)", which is mixed and produced by Tom Shear of Assemblage 23 and pays homage to a talking Venom action figure that Graupner came across at Powers Comics in Green Bay after it had been recalled due to being a bit too scary for kids and promises to stick in your head forever after you hear it once. Another highlight is "Give Me One More Chance to get the High Score, then We Can Go," produced and mixed by Wade Alin of Christ Analogue, likely relatable for die-hard video game fans. "Bloodlust Software Was Awesome," produced and mixed by Mangadrive, gives props to Bloodlust, a video game development company founded by two high school students.
The album ends with super-secret hidden track "Riding Roller Coasters with Peter Spilles," which has nothing to do with roller coasters and is half in German. The title refers to an event that apparently did actually happen according to Graupner's Facebook post from July 2012 about riding roller coasters with the Project Pitchfork frontman. The music for all numbers is entirely electronic, and some of them sound like they could be backing tracks for video games, which is absolutely appropriate.
All told, this album is definitely worth a listen. As a side note, its production was funded by a kickstarter campaign that came in well over its goal, leading me to believe the Gothsicles are onto something that many people appreciate.
– Kathy Nichols
industrialstrengthpublicityltd.com
"This definitely feels like the best transference of the band's live energy over to record we've yet heard…"
I Die: You Die, December 11, 2014
In Conversation is a feature in which the senior staff talk about a record we've been listening to. Not exactly a review, it's pretty much exactly what it says on the tin: two music nerds having a conversation about an album with all the tangential nonsense, philosophical wanking, and hopefully insightful commentary that implies. This time we saddle up for another blast of Lovecraft and fart jokes with industrial's lovable and Rev-ed up scamps, The Gothsicles.
The Gothsicles
Squid Icarus
Negative Gain
Alex: Man, have you ever tried to explain the Gothsicles to someone who isn't steeped in Our Thing? I mean I feel like the video game and general nerd stuff has always been easy enough to get, but there's something special about how the 'Sicles (aka Brian Graupner if you don't know) address our clubs, our music, our culture in their songs. It's always gonna be one of the reasons I love them as much as I do, but I feel like the new record Squid Icarus is the most broadly appealing and least marginalized record they've ever put out.
The reasons for that are manifold, but I think the key one is that Brian is really tapping into a wider vein of geek interest this time around. Songs about video games, comics, all your key nerd demos aren't anything new for this band, but this record is really putting 'em out there up front. That sort of thing can be really pandering and cloying, but in this case the stuff works mostly because it does sound like Brian is singing about stuff he likes. You got "Super Scary Action Figure" as the lead track for goodness sake, a reference to a semi-obscure controversy over a talking Venom action figure: not exactly your run of the mill nerd bait. Does any of that match up to your impressions of the record?
Bruce: Somewhat. I normally find myself having to google more than a couple of Brian's esoteric geek references (a MagiQuest holler?), but even a comics agnostic like me was able to roll with the Venom and Moon Knight references pretty easily, so make of that what you will. Obviously the Cthulhu nods were completely my jam, but yeah, this does feel about as easy to get into as the Gothsicles are ever gonna be. Explaining the project's ethos to people outside of the context of modern industrial club culture is still a bit tricky due to its sheer self-referentiality, but I think that's also what lets Brian basically steal the show at nearly every festival which has a 'Sicles set. People are already being deep-fried in all of the scene's tropes and foibles, and along comes this manic screech of hilarity pointing out just how ridiculous the whole thing is.
Anyway, back to yr point about broad appeal. This definitely feels like the best transference of the band's live energy over to record we've yet heard; I feel like you could play "Ultrasweaty" or "Black T-Shirt" (super obscure "Kids In The Hall" sample aside) for just about anyone with an interest in modern industrial and they'd actually be getting a pretty good sense of what the band's about, not just in terms of fart and Lovecraft jokes (which Squid Icarus has in spades), but in terms of musical energy. Leaving aside geeky themes for a moment, what feels different musically this time around?
Alex: Production is stepped up certainly, with lots of contributions from various quarters. I don't feel like the Gothsicles have ever suffered from really poor recording or programming in the past, but you can hear a major upgrade from their last record Industrialites & Magic to this one. You get guys like Tom Shear, Sami, Daniel Myer, Krischan from Rotersand, all of whom are experts on making industrial club records, and you're gonna reap the benefits. That's not to minimize Brian's efforts at all: obviously the personality of the project comes from him and is what makes this sound like a Gothsicles record and not like a compilation of all those other guys' bands.
I think the other thing that might help the album get over with a few people who maybe haven't been fans in the past is the way Brian's vocals are massaged throughout. Now you and I are both huge fans of his insane warble, but I know some people have just never been able to get into the band for that reason (oftentimes these are the same people who claim they can't take the band seriously, as if solemnity is some sort of prerequisite to enjoying something). There's still plenty of his vox where they count, on the storytelling jams like the Cyferdyne collab "I Sniffed the Glove" or "Cthulhu Fhartwagon", but there's other spots like "Drop Dead, Squidface!" or "Ultrasweaty" where they're processed or mixed differently than we've heard in the past. It's not so obvious a change that it'll put off the established fans, but might be the branch that helps some holdouts come across. I dunno, what do you think of that assessment?
Bruce: Yeah, there's a wider range of production on the vocals, and not just the addition of vocoder to "Moon Knight Is Still Cool" and "Ultrasweaty". I'll admit that on my first couple passes on speakers, some of the vocals sounded completely separated from the instrumentation, but I can't replicate that experience on headphones, so who knows. Regardless, I think the real change-up in terms of both vocals and instrumentation has to be "Give Me One More Chance To Get The High Score, Then We Can Go" which has a millennial synthpop much more in keeping with Soviet than the 'Sicles usual steez. Sure, it's about a timeless topic Brian's dealt with before (mucho sympathy to anyone else who ever bothered to grind all the way through "Rampage" only to experience one of gaming's most unsatisfying "endings"), but it's super fun to hear it taken up with a totally fresh musical coat of paint. "Sword Cane" also feels like it's a change of pace, opting for a positively restrained garage feel.
That's not to bury the lede: there's a much stronger emphasis on club jams, many of which I feel would stand on their own even if you don't "get" them. Sure, we've gotten mileage from "Nine Dudes" and "Save Dat Mermaid" in the past, but "Squidface", "Ultrasweaty", and of course the hella ironic yet literal "This Club Is Closed" seem consciously designed for the club floor rather than stumbling onto it by random (or by aping "Maps Of Reality"). It might seem like Brian's tying one hand behind his back by sticking with references as obscure as Bloodlust Software and Half-Dragon, but that weird mix of the arcane and the immediate's part of what's always worked about Gothsicles releases.
On that note and back to your point about broad appeal, I wonder if we (and others) have overlooked the potential for The Gothsicles' crossover potential to folks outside of the scene. Generally when we talk about crossover acts we're referring to how part of a band's aesthetic or sound isn't wholly part and parcel of modern industrial, but while The Gothsicles are loaded with intra-scene refs and gags, I wonder if the fact that they're not darkly howling about post-nuclear wastelands or their inner torment with po-faced solemnity might cause, say, the roommates of scene folks (or general people of the Internet) to prick their ears up when normally they might scoff at "death disco music". Thoughts?
Alex: That's interesting you bring that up, because I always feel like the whole culture of industrial club music probably looks kind of ridiculous from outside, but none of us can really gauge exactly how ridiculous because we're so steeped in it. The Gothsicles sort of confront that head on by being like "Yeah, this whole thing is kind of silly, but that's cool, we're here to have a good time right?". It's not making fun of anyone or anything (although I think you get hint of self-deprecation in "Black T-Shirt"), but so few artists in the genre ever try to be funny that it's always gonna stand out when someone is brave enough to go that route. Like we've alluded to it's their greatest draw and the thing that will put some people off always. That's just how a lot of gothicky people are calibrated I guess; not able to tell the difference between a band that has jokes, and a band that is a joke.
"With 'Squid Icarus' The Gothsicles have reached their potential and cast off the "joke band" tag. The album is an outright club assault that has plenty of potential dance-floor fillers."
Intravenous Magazine, February 12, 2014
THE GOTHSICLES
'Squid Icarus'
NEGATIVE GAIN PRODUCTIONS
The Gothsicles return with their fourth love letter to geek culture in 'Squid Icarus'. The result of a successful Kickstarter campaign, Brian Graupner and his band of reprobates embark on their most club-friendly and well-rounded outing to date. The classic Gothsicle elements are all present such as Graupner's bat-shit crazy vocals, the 8-bit leads, and of course more nerdy nods than anyone would rightly admit to getting.
With production talents from the likes of Assemblage 23, Faderhead, Rotersand, Christ Analogue, and Haujobb and collaborations with Cyferdyne and Angelspit the album is essentially an ebm wet dream.
Songs such as 'Drop Dead, Squid Face!', 'Ultrasweaty', 'I Sniffed The Glove', 'Moon Knight Is Cool', 'Black T-Shirt', 'Cthulhu Fhartwagon', and 'This Club Is Closed' prove to be some of the strongest yet to emerge out of the band's maniacal discography so far. It's just as crazy and experimental as ever but it has that ever-present club-friendly leaning and most importantly it captures the infectious energy that they bring to their live shows.
As mentioned before, with a list of names like that, the production is going to be spot on. Even with all the different elements flailing about in the mix it keeps its composure and keeps everything accessible. In fact, everything, from the high-fashion album cover, to the song writing and production is the best it has been yet.
There will still be the usual complaints. Graupner's vocals are a matter of taste and if you don't like chiptune elements then this is really best to avoid. But if you're adventurous, up on your Lovecraft, or just a bit wrong in the head, then this album is definitely worth your time.
With 'Squid Icarus' The Gothsicles have reached their potential and cast off the "joke band" tag. The album is an outright club assault that has plenty of potential dance-floor fillers. It's going to be interesting then to see how they can top this.
"But, with all that said, there's only one question left to answer: "How is the music?" And the answer is, "Brilliant." "
Brutal Resonance, November 28, 2014
Aside from listening to their collaborative effort with Santa Hates You on the track Watch Out Motherfucker, I Know Karate, I have never listened to The Gothsicles. But, with a lot of hype built around their fourth album, Squid Icarus, and also receiving praise from various other well known artists, I decided to give them a full listen.
And, from the outside looking in, this is a pretty impressive package. Thirteen tracks are wrapped up in a neat little present for all to listen to, and was worked upon from top producers such as Assemblage 23, Faderhead, Rotersand, Christ Analogue, and Haujobb, which rightly explains why the quality and sound is so fucking good. Aside from that, both Angelspit and Cyferdyne appear on the album in unity with The Gothsicles.
But, pushing the album even further, the stellar artwork was crafted through the help of Angelspit, while fashion photographer Emily Gualdoni committed straight to the photoshoot. The result is a crazy awesome album cover that is both intriguing and amusing at the same time. But, with all that said, there's only one question left to answer: "How is the music?" And the answer is, "Brilliant."
Now, in all honesty, when I read that this act was fairly well into the EBM scene, I got a little scared at first, for I listened to one too many EBM acts claiming to do something different only to fall flat on their faces. But, this was not the case by far for Brian Graupner and his merry band. From the get go, the mixture of older-industrial aesthetics with a love for video game sounds and influences were notable with Super Scary Action Figure (I Want To Eat Your Brain). While the vocals may turn some off, I absolutely applauded the psycho-vocals this man presented. The geeky minded soul behind this music just isn't afraid to be himself by far, and I find that a beauty to behold.
Again, with tracks such as Drop Dead, Squid Face! and Ultrasweaty, the recognition to create music that is just traditional and sweeping four-on-the-floor dance grooves is met, but with such a fantastic chiptune influence and pulsing life that it breathes a fresh air.
Cyferdyne invaded I Sniffed The Glove in this versus song. Adding in some guitar loops and adding in dual vocals was cute. Not as synth oriented this time around, with the vocals coming forth over the music, the track did justice.
Perhaps one of the songs that most anyone enthusiastic video gamer that visited arcades often, Give Me One Chance to Get the Hi-Score, The We Can Go was a complete nostalgia trip. Beautiful underlying synths and a simple rhythm mixed with more chiptune sounds, with lyrical content that cracks down perfectly on the title of the song. It was wonderful.
Moon Knight Is Cool was the first song to really play with the vocals; with the usual seductive shouting came along robotic, soft vocals as well as completely distorted chords. Without fault, these guys know how to change up their album to keep the experience engaging. Perhaps serving as an intermission, Chip Replacement Surgery played with chiptune sounds, and only chiptune sounds. Only lasting a little over a minute, a NIN cover titled Black T-Shirt came next. I've never really dived into NIN's discography, so I don't really know what the original sounds like, but this song was fun and humorous nonetheless.
The next three songs were all astounding, as well. From the distorted whispers in Sword Cane, to the heavier clashing of Cthulhu Fharwagon, straight down to Bloodlust Software Was Awesome's riveting beat, each one of these next songs made me sit down and continue through the album with a happy smile. This Club Is Closed featured Angelspit, and definitely cracked down on that club feeling, and the final track Slime-Half was a final ode to the overall album, sending us out with a final chiptune overture.
Now, as I said before, this was only my first time checking out The Gothsicles But, God damn, I had a huge fucking blast getting through this album. Not only do they pump out completely stellar music that absolutely floored me, but they're able to stay true to their nerdy heart in both song titles and lyrical content. Graupner's voice may not be the best in the world, and should he ever enter American Idol, they'd probably only allow him on the show as a goof. But, his vocals work perfectly in each song that they're presented in.
And, because of his uncaring attitude as to the opinions of others around him, he's able to collect a very loyal following of fans. This guy and the people he surrounds himself with are doing what they love, and there is absolutely no better way to live than that. Keep it going; I'm really loving your style and all that you do.
Tags:
the gothsicles
(6),
squid icarus
(3),
ebm
(164),
cyferdyne
(4),
angelspit
(4),
negative gain productions
(13).
28 Nov 2014
"The Gothsicles flaunt their wild style yet again and get a 4/5 from me."
Das Klub, November 26, 2014
The Gothsicles – Squid Icarus
---
---
Album review of The Gothsicles' 4th album, a retro gamer themed release featuring tracks produced by various artists as well as a collaboration with Cyferdyne and Angelspit.
---
EBM act The Gothsicles return to the public eye for the release of their 4th album "Squid Icarus." The 13 track album is said to be a "Lovecraftian geek culture dance party" that unites some of the scene's top producers like Assemblage 23, Faderhead, and Rotersand as well as featuring collaborations with Cyferdyne and Angelspit. This release comes from Negative Gain Productions and will be available on December 13, 2014.
Without a doubt, this is an album you'll find out in the scene. Balancing high and hard Gothsicle energy with true to EBM electronic sound, the product is a mix of in-your-face tracks and dance-able beats, adding in some retro gaming touches. "Super Scary Action Figure (I Want To Eat Your Brain)" starts the album with the familiar yelled vocals bouncing back and forth with equally rhythmic beats. "Drop Dead, Squid Face!" is an 8-Bit style track with the steady and driven aggressiveness known from Faderhead, the producer.
"I Sniffed The Glove (vs. Cyferdyne)" is by far my favorite song on the album, pushing the energy up high with a heavy guitar riff in the background. Sarcastically promised by the line "We make serious songs about serious stuff," there are jokes all over this track including (for some reason, but really, why not) a Schwarzenegger impersonation.
After this track, the album seemed to smooth and show off its' EBM roots 'til the end, letting tracks like "Moon Knight is Cool," "Black T-Shirt (NIN cover,)" and "Sword Cane" take over for a somewhat mellow, yet dance-able middle. Some tracks are completely devoted to the album's retro theme as well. "Give Me One Chance to Get the Hi-Score, Then We Can Go," "Chip Replacement Surgery," and "Bloodlust Software Was Awesome" give some nostalgia, the second being completely 8-bit and distortion, and the third being the most energetic with racy electronic and hard beats.
"Cthulhu Fhartwagon" is well… as my initial notes read: "A steady electronic track about a weird van belonging to weird people with weird shit in it…" This track surely goes out to the old-school geeks with stories to tell from before the century turned. "The Club is Closed (feat. Angelspit)" is a great smooth track with a dance-able beat telling everyone to get the hell out. In my opinion it should be the album's closing track but the last track is "Slime-Half," a two minute retro/ distortion track with no vocals, but samples of Japanese girls, because you know, who doesn't love that?…
All in all, "Squid Icarus" has some amazing tracks on it that will surely find their way to you shortly. The Gothsicles flaunt their wild style yet again and get a 4/5 from me.
---
"遊び心を感じさせる愉快痛快の一作だ"
暗黒電撃音楽日記 ~My Favorite Bloody Music~, November 29, 2014
Industrial/EBM/Electro/Dark-Electro /Electro-Goth/Industrial-Metal/Industrial-Rock/Future-pop/Synth-Pop /Trip-Hopといった世界中のアングラ・マニアックなサウンドをご紹介する暗黒日記でございます。
■
The Gothsicles「Squid Icarus」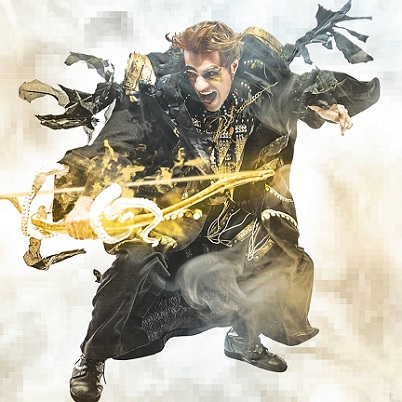 Negative Gain Productions
より、
Brian Graupner
によるUS Industrial/EBMユニット
The Gothsicles
が、通算4サン目となる「
Squid Icarus
」をリリース★
まずは、ジャケットの鮮烈さに驚いた。
過去、3作のジャケットは、ゴシック・テイストのアメコミ風イラストによるモノだったが、それがこのインパクトの
Brian Graupner
自身のジャケだ。
サウンド面は、
The Gothsicles
らしいユニークなEBMサウンドを軸に、EDM/Dubstep/Synth-Pop/Electro-Punk/8 Bit/Technoなエレメントを吸収したフロア志向の高いトラックが収録されている。
キャッチーでポップ、アッパーでワイルドなご機嫌なトラックが満載だ。
Cyferdyne
やAnglespitとのコラボレーション・トラックなど話題性も十分の最新作「
Squid Icarus
」。
遊び心を感じさせる愉快痛快の一作だ。
試聴はこちらで。
http://ngpofficial.bandcamp.com/album/squid-icarus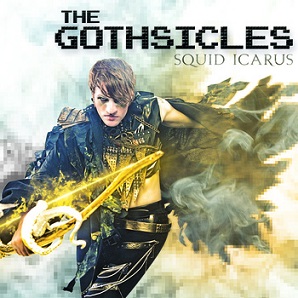 The Gothsicles
「
Squid Icarus
」
★★★★☆(★・・・5点満点)
01. Super Scary Action Figure (I Want To Eat Your Brain)  04:22
02. Drop Dead, Squid Face!
03. Ultrasweaty  04:08  
04. I Sniffed the Glove (vs. Cyferdyne)(
My Favourite Song

)   
05. Give Me One More Chance to Get the Hi-Score, Then We Can Go
06. Moon Knight is Cool
07. Chip Replacement Surgery
08. Black T-Shirt (NIN cover)
09. Sword Cane
10. Cthulhu Fhartwagon
11. Bloodlust Software Was Awesome
12. This Club Is Closed (feat. Anglespit)